It was a Tuesday morning and as usual, I woke up with the help of the alarm. As I got ready to take care of the usual morning tasks and chores before getting ready for work, I realised that my geyser switch had stopped working! Now how would I be able to put it on for warm water?
It's pretty common for me to browse through my Facebook and other social media pages in the morning while getting ready to go to work. As I wondered what to do that day, I came across the Timesaverz Facebook page.
A nice yellow banner spoke of getting a discount on professional sofa cleaning services (at I think a rate of Rs. 200/- or something)…but what caught my eye was that the service provider seemed to be a one-stop shop for all home care needs. It said: repairs, handyman, carpentry, home cleaning and an array of other services too.
I quickly clicked on the link and was taken to the main website. The simple and easy-to-use site for a first time user like me was such a timesaver indeed. All I had to do when booking a service for the first time was to choose my city, choose the service category, time, etc and voila – all done!
The sofa cleaning ad kept playing at the back of my head but what I needed most was an electrician to fix the switch. I quickly booked an electrician and chose the 2-4 time slot (because it would be easier to come home for lunch and supervise things…)
Temptation got the better of me and I quickly logged back in to also order a sofa cleaning service for the same time!
The rest was so professionally handled, it literally made by day. I left for work and a few moments later I got a call from the service rep. They confirmed the 2 kinds of services I had booked and assured me that the agents would be in by 2 pm.
As promised, the agents kept their word. A little after 2 the doorbell rang…
There were 2 agents who came with special cleaning equipment (vacuum cleaner and relevant cleaning solution) for the sofa cleaning job. Another electrician was also with them to get the switch repaired.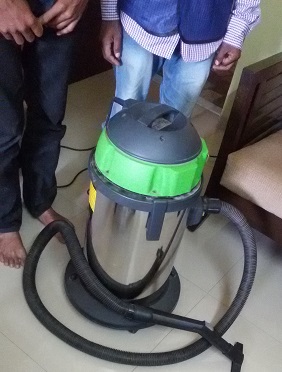 While the 2 sofa cleaning agents quickly made the necessary arrangements and started dry-cleaning the sofa, the electrician swiftly went about examining the switch. He explained the reason why the switch had stopped working, what long-term solution can be found.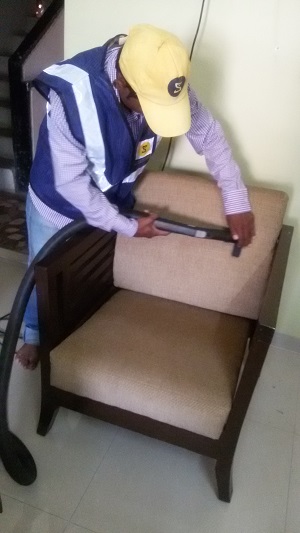 On the one hand, while the sofa clearing was being done, the electrician went downstairs, got the spare parts required for the switch and got it repaired within the next half an hour.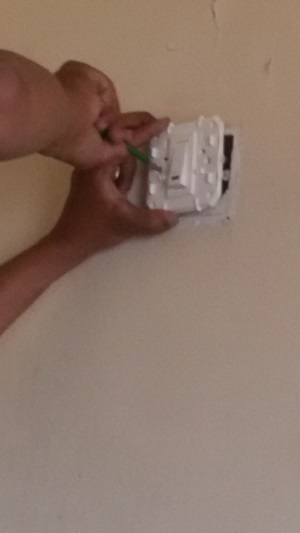 What impressed me was the level of professionalism and the array of services offered. Timesaverz doesn't only offer sofa cleaning – they go deeper and categorize it into shampooing or shampooing and sanitisation. The difference in the two would include time taken for cleaning, products and methods used, etc. Sanitisation is a more thorough form of cleaning. Normal shampooing gets rid of surface dirt and dust / stains.
Some tips when booking a service for the first time:
Explore the range of services and see what suits you best (between sofa shampooing and sanitization, I needed just a simple shampooing service to get rid of stains).
Even when it comes to Home Cleaning, understand what you need and pick a service that falls within your budget range
What is most useful is that Timesaverz offers a wide price range for different services: If you have money to spare – book a thorough deep cleaning and if it already the end of the month and you are broke – a simple cleaning should do!
Keep an eye out on offers – Timesaverz has special discounts and offers across service categories, daily.
Useful to know:
After trying these services out, I decided to download the Timesaverz app. It is so convenient to hire a plumber or even carpenter with the app. You just have to click!
Hiring their service made my day!
Follow, Like or Comment. Do something!