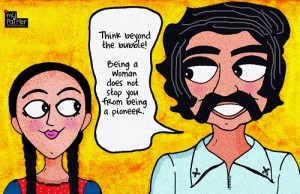 The image above is one of Debasmita's illustrations
Debasmita Dasgupta, an artist from India currently based in Singapore is the Founder of "My Father illustrations", an endeavour that promotes girl-child rights by engaging fathers and daughters through artistic exchanges. She illustrates true stories of fathers who fearlessly fight for the rights of their daughters. She has shared over 150 stories from 37 countries.
She talks about her journey with SHEROES today,
***
I am from a middle class family in south Calcutta, being the only child, I had a very close bond with my parents, especially my father who always inspired me to swim against the current. My father is a theatre actor & director. Sometimes I used to accompany him to his rehearsals and got completely bowled over seeing him bring together actors, orchestrate them to create art with a strong social message. That somehow became the foundation of my artistic existence and inspired me to find my purpose as an artist. Thus began an urge do something meaningful with my education, my art, my resources and surroundings.
It was on a Sunday afternoon when the idea of "My Father illustrations", came to me after I heard a TED talk by Shabana Basij from Afghanistan. It was a moving experience. I felt something had permanently changed inside me. Over the next few days, I watched that talk over and over. Her honesty, her simplicity and power of narration moved me.
Shabana grew up in Afghanistan during the Taliban regime. Despite all odds, her father never lost the courage to fight for her education. He used to say, "People can take away everything from you except your knowledge". Shabana's story gave me a strong impulse to do something but I didn't know 'what' and 'how'. That's when my red sketchbook and pencil caught my eye. Before I'd even realized it, I had taken my first step. I illustrated Shabana's story and posted it on Facebook. It was an impulsive reaction. I found Shabana's contact and shared the illustration with her. Shabana was so touched that she forwarded it to her students, and then I started getting emails from a lot of other Afghan men! The emails were a note of thanks as they felt someone was trying to showcase Afghan men in a positive light.
I realized that if there are so many positive father–daughter stories in Afghanistan, just imagine the positive stories across the world! My journey had started. I started looking for moving father-daughter stories from across the globe. Some I found, some found me. With every discovery, my desire to create art for people kept growing.
Started in 2013, 'My Father illustrations' is all about sharing the positive father–daughter stories with the rest of the world. Through this project, I want to encourage fathers to fight for the rights of their daughters. Every story is special and needs to be told. I look for ordinary people with stories to tell because celebrity stories are still available for people to find, but these ordinary stories are mostly "unheard". Till date I have shared over 150 stories from 37 countries through "My Father illustrations" Facebook page.
In many countries, girls are vulnerable due to lack of education, economic disempowerment and gender bias. Issues such as female foeticide, child marriage, verbal or physical abuse and sexual exploitation are common. The challenges however, are not limited to marginalized communities. The ever-shrinking number of women in corporate boardrooms and nation's top governing positions is an indication of how little we have progressed when affording basic rights to our young girls. That is where the root of the evil lies.
Click here for the complete story.
Follow, Like or Comment. Do something!